Welcome to the Family (2023)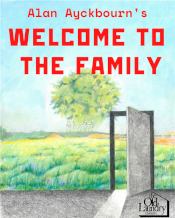 To navigate, use the links in the bar above or to the right.


World Premiere:
16 May 2023

Venue:
The Old Laundry Theatre, Bowness-on-Windermere

London Premiere:
N/A

Venue:
N/A


Play Number:
88

Published:
No

Other Media:
No


Short Synopsis:
Josh is keen to introduce his fiancée Sara to his parents – Lord and Lady Meizner; but as they are deceased, this should have posed a problem…. Enter Josh's wicked Uncle Lance who has gifted him a state-of-the-art "Capture" visit to the past enabling him to revisit his family home whenever he likes. Celebratory champagne flows but family secrets are also about to be spilled


Availability
Amateur:
Not currently available for amateur performance.

Professional:
Not currently available for professional production.
Welcome to the Family
quote

"It's hardly going to come up in conversation, is it? You're not suddenly going to come out with, 'Talking of air crashes…' are you? And even if you do, they'll think you're mad anyway. Sara the Psychic Schoolgirl. "
All research and original material in the Welcome to the Family section of Alan Ayckbourn's Official Website is by Simon Murgatroyd M.A. and copyright of Haydonning Ltd. All other material is copyright of the named copyright holder. Please do not reproduce any material without permission of the copyright holder. For enquiries, email: archive@alanayckbourn.net